Beer: Samichlaus
Brewery: Schloss Eggenberg (Eggenberg, Austria)
Type: Doppelbock
ABV: 14%
Bit of a change of plans for this post - I was all geared up to do Thiriez' Biere de Noel, but after drinking it I decided that the beer had gone off, so rather than do it a disservice by a review, I just left it off the list entirely. A shame, but it does sometimes happen. Fortunately we have an excellent substitute for today, a doppelbock from Austria that is by a wide margin our the strongest beer in the countdown. This year marks the second anniversary of Samichlaus's arrival in Ontario, and although he certainly seems more than welcome up on the province's rooftops (click click click), the LCBO and AGCO were initially not so welcoming of old St. Nick.
Seems that a few years back, the folks who sought to distribute Samichlaus in Ontario were met with resistance from both the LCBO and AGCO (Alcohol and Gaming Commission of Ontario). Not for the strength of the beer, mind you, which at 14% is certainly among the very strongest beers to be available on liquor store shelves. No, the reason for the initial refusal for having the brew in the province was the name 'Samichlaus' (Santa Claus in Swiss-German), which they argued didn't fit in with the LCBO's stance on 'don't promote beer based on Santa Claus', I guess. Thus, when the brew was introduced into Ontario in 2008, a big sticker was plastered over the name to protect our precious little snowflakes from knowing the truth about the man in red's endorsement for seasonal boozy German-style ales. In 2010, the AGCO chimed in and had the beer refused again -
this time, because of the image of Santa on the cover
. Of course, the whole situation smacked of an awful stupidity that demonstrates the very worst of these provincial institutions. To ban a beer based on a label that is potentially 'appealing to children' is ludicrous. Children shouldn't be wandering around the LCBO shelves without supervision anyway, and if they do, they aren't going to be going for an obscure bottle of Austrian beer (though maybe that
brightly coloured Santa-supported bottle of eggnog
might be more intriguing, hmm?) What were they thinking would happen - that some eight-year old with a bottle opener is going to crack one of these open and chug it down all because Santa is on the bottle? Oh, but what if the little tykes find a bottle of Samichlaus in Mom and Dad's beer fridge? Surely the image of Santa will prove to be utterly irresistible for youngsters, who will drop their toys at the mere sight of a bottle of "Santa Claus juice"?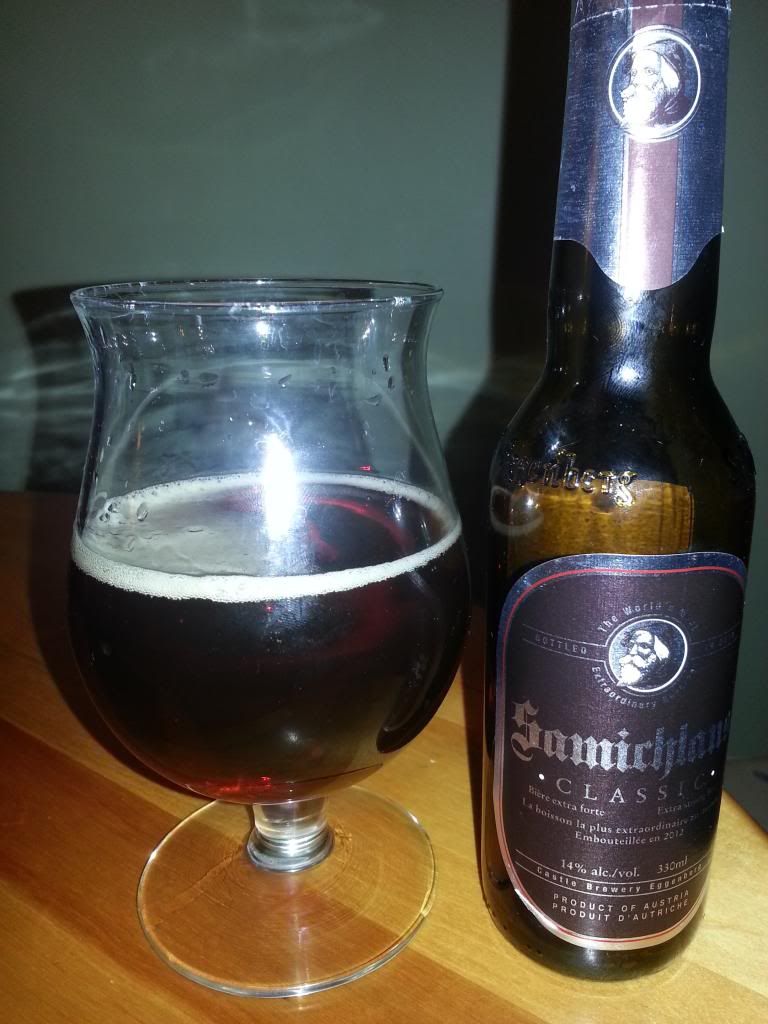 Might be a good time for the parents to take some responsibility here, and you know...stop their kids from drinking...
Fortunately, clearer heads prevailed for one reason or another, and Samichlaus is now a regular beer for the Christmas season. And what a beer it is...
Poured into my Duvel tulip glass. Dark caramel ruby in colour, with a half inch of head that boils off to a thick ring - not uncommon for beers this strong.
Smells very sweet at boozy - rich caramel, plum, vanilla, tart cherry, lightly burned sugar. Fan-freaking-tastic.
Lovely and sweet, very rich, a real pleasure to sip.
Big sweet caramel entry, vanilla, plums and grapes, before a boozy spicy finish. Light puckery aftertaste. Tastes very much like a sweet barleywine, rather than a doppelbock (maybe a tripelbock or quadbock?). Either way, it's a potent and inviting brew that has a moderate body and strong enough carbonation to keep things moving.
Terrific brew, one I will keep coming back to again and again, so long as the forces that be decide that I am capable of handling it.