Hey gang,
Getting close to that time of year, and so my wife and I decided to take a little road trip to Buffalo town to get that last big haul of the season. Just before we left, I had an idea - an awful idea. A wonderful, awful idea! Why not, instead of an Advent calendar, do a
Beervent Calendar
, with a different Christmas beer for each day up to Christmas? A great idea indeed, though probably not too feasible as it stands - I do have to work a lot this month, and finding 25 different Christmas brews is a bit of a stretch, certainly very much so in this province. Indeed, the LCBO's Christmas beer list is pretty disappointing this year, as the brews are more or less exactly the same as they were last year, so in order to pad the list to a workwithable number, a trip to the States was in order. That, and there have been so many Top Ten or Top Twenty Best Xmas Beer lists on the internet that recommend so many brews I have yet to have tried before, so that sealed the deal.
And so, in honour of Christmas 2013, MattsBeerDen presents:
The Twelve(ish) Beers of Christmas
!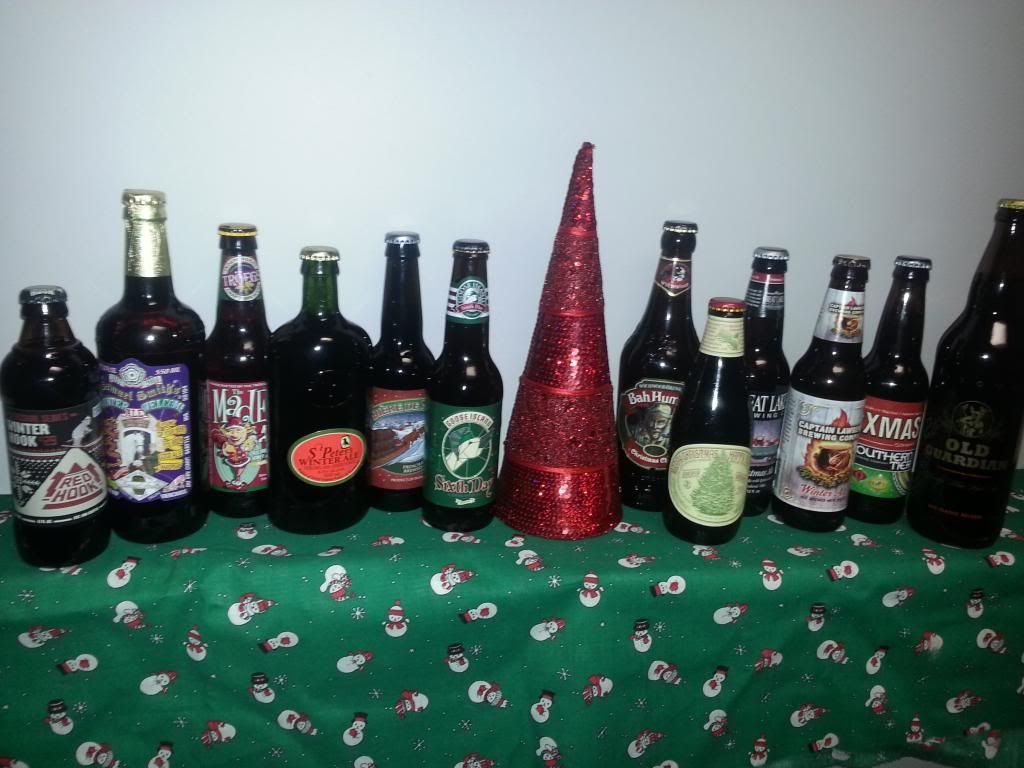 Why "ish"? Well, I wanted to leave open the possibility of finding more Christmas brews, because you never know what the month will bring. So if some other brew comes into the mix, I ain't gonna turn it down! But for now, we've got ourselves a pretty dandy list to celebrate this festive time of year:
1st Day) Red Hook Winterhook (Seattle, WA)
2nd Day) Samuel Smiths Winter Welcome (Tadcaster, UK)
3rd Day) Troegs Mad Elf (Hershey, PA)
4th Day) St. Peters Winter Ale (Suffolk, UK)
5th Day) Thiriez Biere de Noel (Esquelbecq, France)
6th Day) Goose Island Sixth Day Festive Brown Ale (Chicago, IL)
7th Day) Wychwood Bah Humbug (Witney, UK)
8th Day) Anchor "Our Special Ale" 2013 (San Francisco, CA)
9th Day) Great Lakes Christmas Ale (Cleveland, OH)
10th Day) Captain Lawrence Winter Ale (Elmsford, NY)
11th Day) Southern Tier 2XMAS (Lakewood, NY)
12th Day) Stone Old Guardian Barley Wine (Escondito, CA)
Will I follow a particular drinking schedule? I mean after all, as those sage gentlemen Bob and Doug McKenzie wisely observed, what the hell
are
the Twelve Days of Christmas? There are of course, Christmas, Christmas Eve, New Years, New Years Eve, and "there are two Saturdays and Sundays in there, and three other days, which I believe are the 'mystery days'." Technically, according to our good friend wikipedia, the Twelve Days start on Christmas and cover the twelve days
following
the 25th. Nuts to that, I says; I'm not waiting that long. I'll just work my way through the month with the goal of finishing the list with the Old Guardian on Christmas Eve (I have a tradition of drinking Barleywine and copious amounts of brandy on Christmas Eve).
We'll kick things off next week!