It's technically not summer yet, but it might as well be.
Like a slumbering bear that finally emerges from its winter den, we Canadians - who have been trapped indoors after an exceptionally long winter - have collectively stepped out into the bright sunshine and have started bringing out all the summer trimmings, and in the process bypassing the season of spring entirely. Lawn mowers are roaring, patios are opening across the city, every conceivable bicycle-skateboard-scooter-like contraption has been taken out of storage and ridden by the neighborhood children. And, due to this country's well-placed May holiday, the firecrackers are a-crackling, and probably will be a-crackling nightly from now until Labour Day. It's a cold country, and we don't get out much, but when we do, we do it right.
That is, of course until it gets so bloody hot that we have to stay indoors again.
So for now, while it's that wonderful zone of hot where it is not overbearing and still a bit of a novelty, it's time to get outdoors and enjoy it. Or, in my case, sit inside and work on a beer blog entry. The things I (eventually) do for your people.
Given the fact that the "May 2-4" weekend is, for all intents and purposes the official first days of summer, it's particularly hot and sunny, and the fact that the mighty Arsenal has completed a miraculous second half of the season to perch proudly and arrogantly over Tottenham in the standings (
Happy St. Totteringham's Day, you Gunners!
), I'm in a festive mood. Fortunately, my fridge is well-stocked with wheat ales that, coincidentally, happen to have the word "Summer" contained within (I'm not just aiming for those tantalizing
Untappd
badges, though that is a factor).
So let's have at them!
Beer: Samuel Adams Summer Ale
Brewery: Sam Adams/Boston Brewing Company
Type: American Pale Wheat Ale
ABV: 5.3%
I'm fairly certain that this brew now completes my Sam Adams Seasonally-Named collection, alongside the Spring Lager, Winter Lager and their Harvest Pumpkin. Like collecting all the Elemental Legendary Bird Pokemon, if you will. I'll call this one Zapdos.
In Ontario, we seem to be in the midst of a Samuel Adams invasion, as this brew joins the ranks of the classic Boston Lager, Latitude 48 IPA, the remaining Spring Lager, and a small release of the $115 Utopias Strong Ale,
which apparently sold out almost immediately
. Far, far too rich for my tastes. But this comes alongside a sort of LCBO glasnost, in which we have seen more and more American craft brews are made available in the province, such as Founders and Goose Island. Ontario's a massive market, let's be honest. Sam Adams has been around here the longest, and though many of these beers have been here before - including the Summer Ale, which I had back in 2010 - this is by far the most Sam Adams beers at one time I've seen in this province. So how does the summer edition stack up?
Poured into my Founders nonic, in honor of the recent American Beer Invasion. Light golden straw, mildly hazy, and with some vigorous carbonation that might be the result of a less-than-standard glass washing on my part. Head is thin and frothy, doesn't last for too long.
Nose is classic pale wheat, with some lemon and orangepeel. Seems to be about it, but it's not too shabby on this hot 'summer's' day.
A bit more body to it than a lot of pale wheat ales that I've had recently, but still pretty one dimensional. A mild wheat ale body with some lemon and orange, and a bit of malty sweetness. Maybe a bit of vanilla and herbal hops. Thinner bodied, moderate-to-zippy carbonation.
Well, it's citrussy and it goes down remarkably quickly, so chock this one up as a decent summer thirst quencher, though in typical Ontario fashion its quite pricey (over $13 for the sixpack). Still, it'll work for the weekend ahead. (Grade: B-)
Now to something a bit closer to home!
Beer: Muskoka Summer Weiss
Brewery: Muskoka (Gravenhurst, ON)
Type: Hefeweizen
ABV: 5%
Before you long-time readers (if any) get all up in arms over the fact that I've reviewed this brew before way back in 2011, there is a reason for checking in on this brew. When it first was released in the LCBO, the brew came in a lovely 750mL corked bottle; the brew inside was a lovely unfiltered hefeweizen. Now, however, Muskoka has had a pretty good couple of years - with the popularity of its Mad Tom IPA helping quite a bit in that regard - which has allowed the brewery to change some of their brews from limited seasonal offerings to regularly available, six-pack fare. So now, the Summer Weiss is back in a bright new label redesign and is housed in a six pack, and so I'm curious as to whether the brew has changed at all since its original release.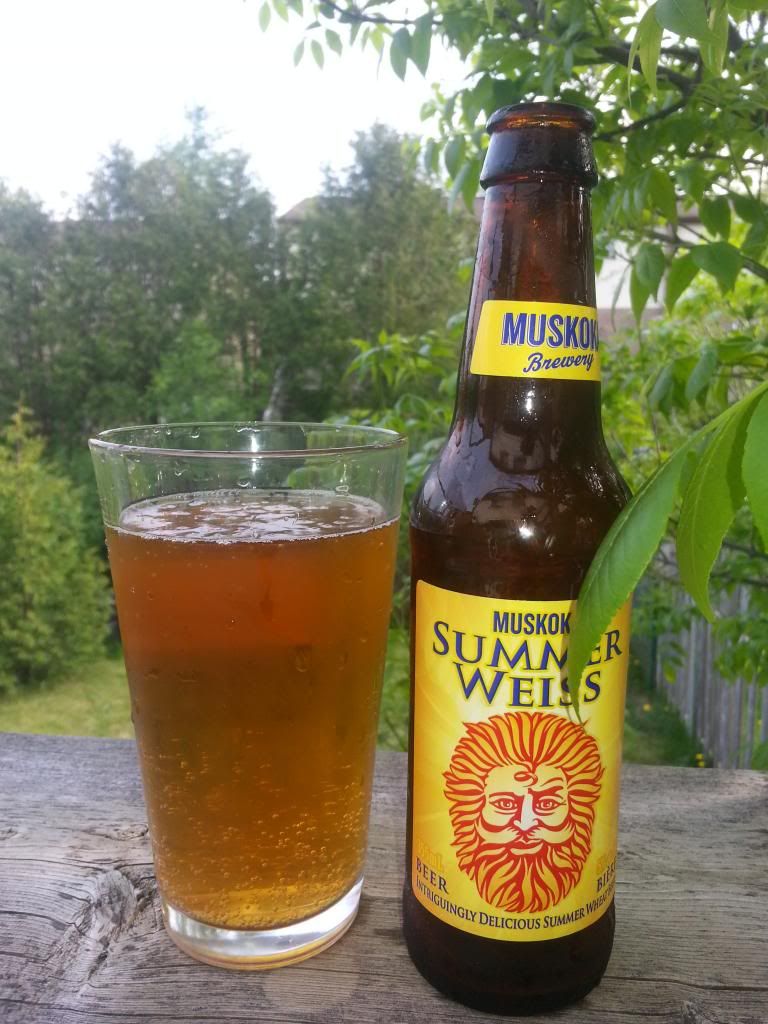 First think I notice right of the bat is the colour - sure looks like the brew has been filtered, much more so than before. Normally I much prefer the unfiltered hefeweizens, but I'm certainly open to interpretations of the style. Very clear orange golden colour, with a thin crown of foam that quickly settles into some islands of lace.
Nose is similar to the Summer Ale, except with a pronounced breadiness. Citrus is here as well in the form of lemon zest and orange peel.
Tasty brew that has more of a malt profile than others of the style, giving it a bit of heft. Refreshing and citrussy, though not nearly as complex and fulfilling as the previous incantation, though this could also be the difference in two years of drinking. It's not a bad summer brew at any rate, and goes down extremely well on a toasty Sunday evening such as this. (Grade: B)
Summer is certainly wheat beer season, and there's lots to choose from. When it's hot and sticky out, there's really no alternative for a thirst-quencher; I tend to drink them almost exclusively in the summer months - at least when I'm getting some serious beer drinking done - and so variety is certainly a good thing. Whatever you choose to drink this Long Weekend, I wish you happy drinking!
Cheers to summer beers!