So, apparently, I dun goofed.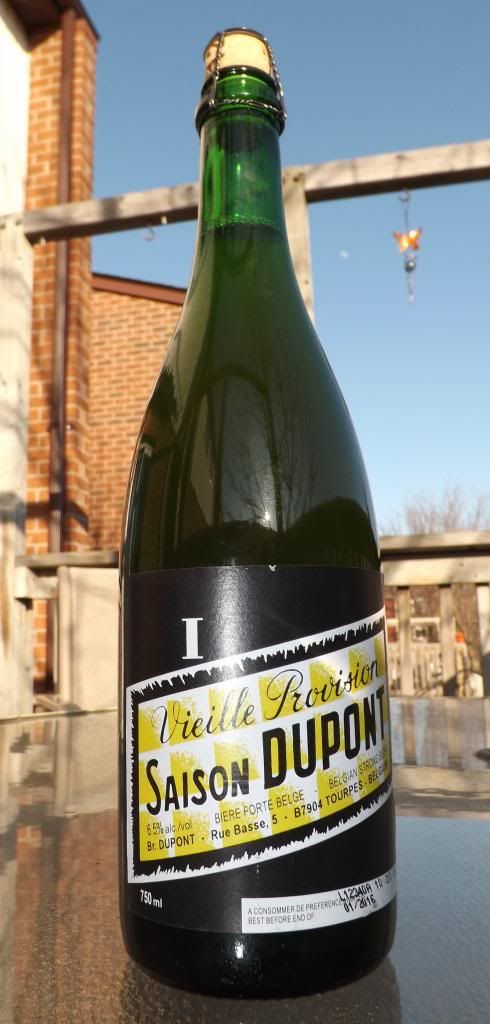 In my excitement to bring you the latest from the Brasserie Dupont release, I neglected to check the release information for any future brews coming our way. My bad. And, sure enough, the one brew I was most excited to see - the legendary Saison Dupont - was the last minute entrant in the race, having just filled out his racing card and paid their registration fee with seconds to spare. Suffice to say, I was incredibly excited to see this brew on the shelves. What's more, instead of those small 330CL bottles that the previous three were shipped in, the Saison comes our way in a handsome corked 750mL bottle - looking very much like a bottle of vintage wine.
So consider this an addendum to the previous post and the true cap to the Dupont release. While I can't say that the previous three brews hit the mark for me, this brew is the one that is truly memorable - it is absolutely one of the very best of the style. Though I encourage you to give the whole Dupont lineup a try, the Saison is definitely the one that has Matt's Beer Den Guarantee* (guarantee void in Tennessee).
Trust me - this brew is awesome.
Beer: Saison Dupont
Brewery: Brasserie Dupont (Tourpes, Belgium)
Type: Saison/Farmhouse Ale
ABV: 6.5%
Before I get started, some sad news to report. Last week, while organizing the substantial pile of dishes on my counter into a more manageable pile for washing, a Rube Goldberg chain of events led to an unspeakable tragedy - the shattering of my beloved, wonderful Duvel tulip glass. After all the swearing and yelling, all I could do was mourn the passing of my favorite glass. I've said this before, and I'll say it again - if I were to make a Desert Island Discs selection for the one glass I would take with me on my beer-related travels, the answer would be Duvel. It is both aesthetically pleasing and structurally unique, one of the most recognizable glasses in all of beerdom. Its wide bowl allows for the brew to be swirled and contemplated; the narrowing crown of the glass encourages the formation of a sturdy head, and the outward unfurling lip makes for some quality, spill free sipping. Almost every style of beer can be served well in this glass, and they all look splendid. For my purposes as well, the design of the glass has another benefit, as its relatively small "Duvel" label is both small and low enough so that it easily can be hidden when sampling other beers (I try not to show the glass's brand label unless the beer happens to be made by that brewery).
This glass has seen it all: Westvleteren 8 and 12, Ten Fidy, Orval, Peche Mortel, Oak Aged Yeti, and all the other fantastic brews of the past three years. Sad as I was, my grief was mercifully short-lived, as fortune would have it that my friend was able to acquire me a shiny new Duvel glass, and I could not be more excited to have the old tulip back in the bar cupboard! Cheers Brad! And welcome, new Duvel glass - may you be ever filled with wonderful, delicious brews!
RIP Old Duvel Glass (2009-2013)...
On to the Saison, which is looking simply fantastic in the tulip glass.
Husky, grainy in colour - a hazy tawny golden brew, that sports a billowing head of about two inches that settles into a thick ring with a ton of lacing. Pitch perfect.
Nose has definitely got that farmyard smell. I know that probably sounds awful, but think of it more like strolling through the barley fields and glens of The Shire. Nice grain husk, lemon, herbs, a touch of sugar, and a muskiness that is quite enjoyable.
This kind of brew has exactly the dryness and complexity that I like in a Belgian ale. Not overly sweet, boozy or yeasty either. Just a fantastic brew. The citrus is so well done that it tastes like someone has squeezed a fresh lemon in the glass. Grainy, husky background with herbs and spices. Again, there's hardly a taste of yeast to be found. I could drink this beer all summer long and not get tired of it.
Carbonation is mild and enjoyable, and the beer is light and airy. A pleasure to drink.
Simply put: there's a reason why Saison Dupont is considered one of the world's finest brews; as a saison, it is a true exemplar of the style. Light, fresh, citrussy and funky, it's a great spring or summer brew. And at about $7 bucks, it's not an expensive pickup. Definitely check it out. (Grade: A+)